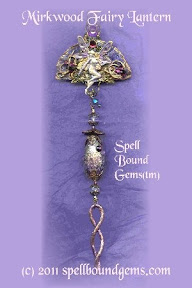 Enchanted Wishing Gems(tm)/ Fairy-Enchanted/ Wish-Fulfilling/ Tolkien Jewelry- Mirkwood Fairy Lantern - Necklace and Pendulum:
This fairy-enchanted, naturally spirited, wish-fulfilling,
handmade Tolkien necklace and pendulum is made of natural rose petals. This necklace is an original organic art jewelry design.
For more information about Enchanted Wishing Gems(tm) holistic mystical tools, gemstone magic, amulets and talismans, and custom magic, write spellworker@gmail.com. To view similar items, view http://gemmagick.com.
(c) 2011 spellboundgems.com